Help Your Apparel Shoppers Find Their Best Fit
Powered by over 80 million AI digital twins, years of customer body data, and style-specific size recommendations, Bold Metrics AI sizing platform gives your shoppers their best fit and the confidence to purchase while helping forward-thinking apparel brands increase conversion and average order value, reduce returns, optimize operations, and improve sustainability.
Results You Can See
As the leading AI-powered solution for apparel retailers and brands looking to reduce returns, improve sustainability, and boost conversion, Bold Metrics AI Digital Twin technology helps brands unlock the power of customer body data to meet the demands of today's increasingly personalized world.
Virtual Fitting at Your Fingertips
We help brands like yours simplify fit to connect your shoppers to their best size - easily, accurately, and fast. Our clients experience transformative results, see how we can do the same for your brand.

Chat with an expert to see what the Bold Metrics body data platform can do for you.
Let's connect.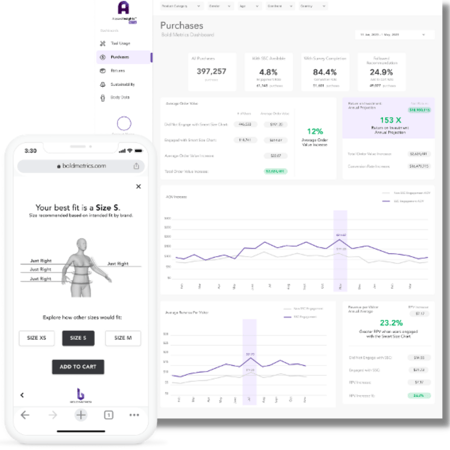 The Cost of Not Using an AI Sizing Solution is Steep
Poor conversion
Sizing uncertainty results in low conversion, especially for new customers. Shoppers also buy fewer items if they aren't confident that the clothing will fit.
High returns
The majority of apparel returns — a whopping 52% according to Shopify — are due to poor fit, which can be easily avoided with an accurate and easy-to-use sizing solution.
Lack of personalization
80% of consumers want personalization from retailers (McKinsey). There's no way to personalize fit, sizing, or marketing messaging without reliable data.
Outdated Solutions Don't Fit
❌ Size charts: Can be confusing if shoppers don't know their size or don't have a measuring tape (and who does these days???). Don't take into account personal fit preferences or individual garments, so most people guess their size or bracket, leading to higher return rates and lower conversion.
❌ Brand comparisons: Compare an item's size to another brand's sizing (yes, they highlight competitors on your website), which assumes that customers are familiar with how that apparel fits. Lumps a brand in with one type of fit, therefore recommending the same size in every style. Some require profile creation, too, which have been shown to decrease conversion and increase cart abandonment.

❌ Mobile scanning apps:

While apps are readily accessible given high mobile phone adoption rates, the technology often requires the user to change into tight-fitting, body-skimming clothing and is still unreliable, plus experts have data privacy concerns.
It's Time For a Bold New Approach
Bold Metrics sizing solutions leverage machine learning algorithms to build our digital twin library (we're at 80 million digital twins and growing!) to match your shoppers to their best fit based on their unique body measurements.
We help brands like yours generate and use consumer data to:
✔️ Boost conversion and AOV
✔️ Reduce returns
✔️ Enable data-led design
✔️ Optimize operations
✔️ Improve sustainability efforts
✔️ Personalize the retail experience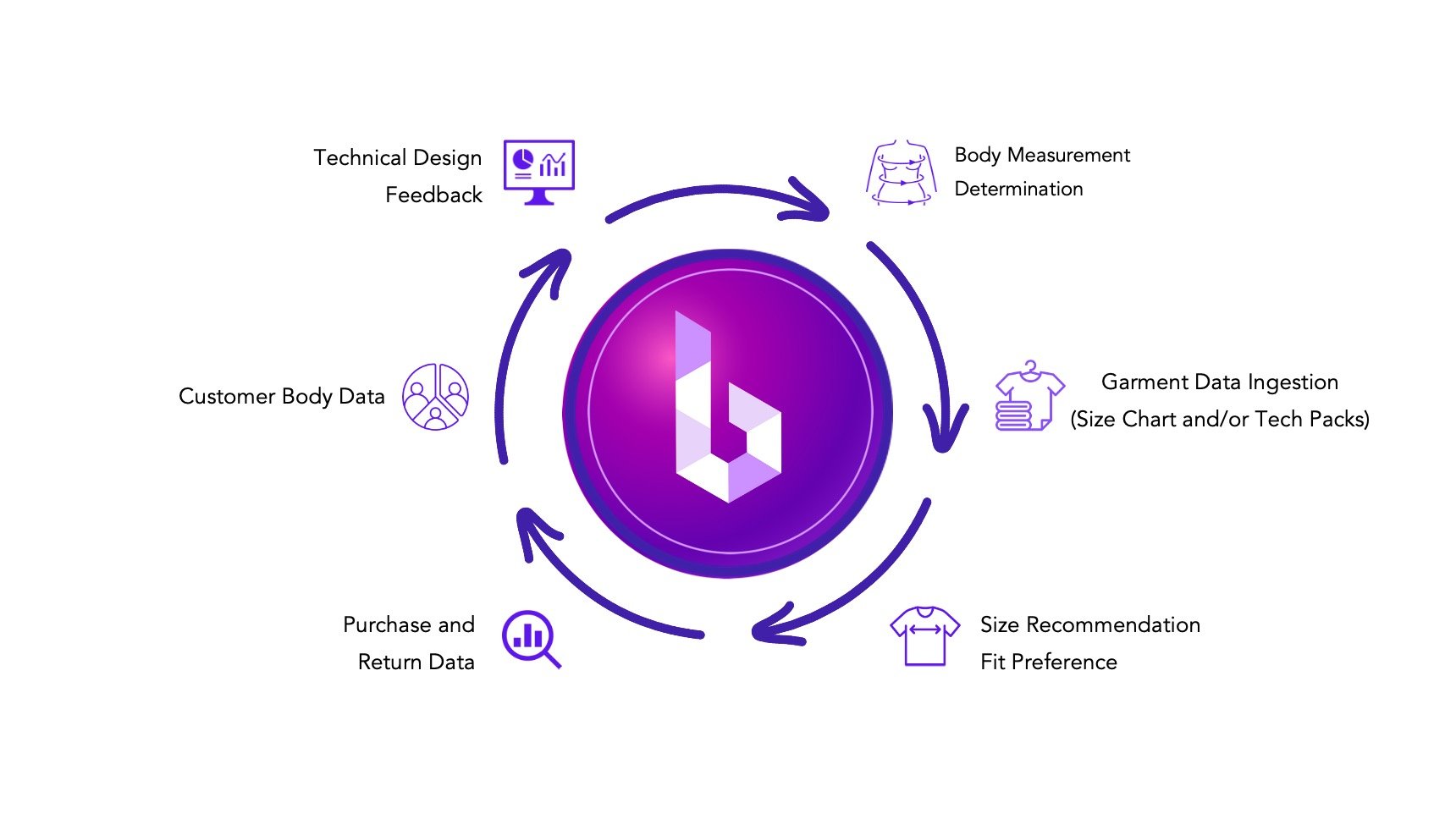 Bold Metrics best-in-class AI and machine learning models power 3D body data capture at scale. Using advanced AI, we accurately determine critical points of measure to create unique digital twins of your actual shoppers. In combination with brand-specific garment data, we provide detailed size recommendations to shoppers that have tailor-level accuracy.
Apparel Insights™ takes that a step further to provide powerful insights across the business to drive data-informed decisions on everything from marketing and eCommerce to product and design.
Our Clients Get Real Results
When it comes to spending money on luxury items, customers are much less willing to open their wallets if they don't know how an item will fit and they can't try it on. Due to the high cost and value of Canada Goose apparel, return rates significantly affect the bottom line.
Leveraging Bold Metrics, Canada Goose used our Smart Size Chart to:
Increase conversion by 16%
Reduce costly returns by 21%
>> Read more
Outdoor apparel brand Burton takes a customer-first approach to its dedicated community of snowboarders — so when it came to adopting a sizing technology, it made sense to elevate the online fitting experience.
For Burton, improving shopper confidence around sizing resulted in an increase in AOV.

>> Watch the webinar
Finding the right fit goes beyond a number for the important moments in life. Men's Wearhouse uses Bold Metrics for its online tuxedo rentals to help customers seamlessly connect to their best fit without any guesswork.
The result is a personalized sizing solution that:
Reduced average return rates for tuxedo coats, pants, and shirts by more than 47%