Unlock the Power of Body Data
Discover how we help brands like yours simplify fit to connect your shoppers to their best size - easily, accurately and fast. No measuring tape required.
Boost conversion by 20% on average.

Reduce average return rates by 32% and keep them down.




Improve sustainability efforts.
Drive conversion, reduce returns, and personalize the consumer experience around fit.
In a 30-minute demo, we'll show you:
Which Bold Metrics AI solution would best fit your brand's specific needs.
How we will help your brand improve its sizing experience, personalize the customer experience, and drive down returns.
The metrics by which we measure success when it comes to conversion and returns.


Customers first
Create a personalized retail journey and give shoppers the confidence to transact with style-by-style fit options based on a customer's unique body measurements and preferred fit.

I looked at every self-measuring tool on the market before settling on Bold Metrics. Sometimes simpler is better and from a user experience perspective, it can't be beaten. Not only is it more accurate than smartphone apps; we were able to customize it to our unique product line and serve customers around the world."
Andrew Parkes
Founder, EPH Apparel

Increase conversion
Increase average conversion rates by 20% - how would a 20% conversion increase impact your apparel brand?
By connecting customers to their best size according to personal fit preferences, conversion rates, and AOV go up... and stay up.

Traditionally, we required 16 body measurements from every client to make a pair of bespoke jeans, and these measurements were taken in person using a measuring tape. Now, with the implementation of the Bold Metrics Virtual Tailor, we are able to collect these same measurements from anyone, anywhere, anytime, and have full confidence that the product we make will fit."
Josh West
Co-Founder & CEO of Blue Delta Jeans Co.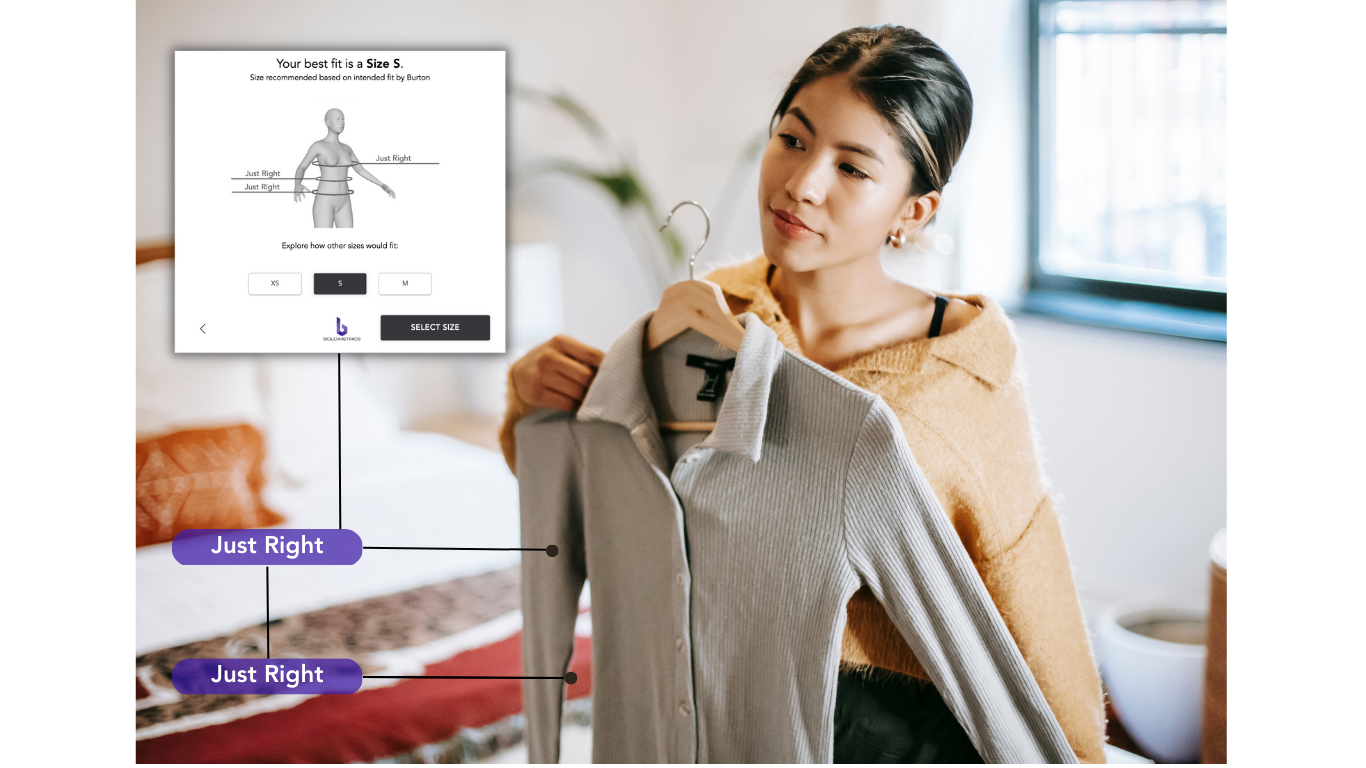 Reduce returns
Reduce average return rates by 32% by connecting customers to better-fitting clothing without the guesswork (or a measuring tape!).

Leveraging the Bold Metrics machine learning technology, we turned data into action and algorithms into accurate recommendations, so our customers get a great fit."
Kelly Helthall
VP Digital & Analytics of Men's Warehouse

Improve sustainability
Did you know? If the entirety of the US Apparel Industry used Bold Metrics... we'd eliminate 53,868 tons of landfill waste - the equivalent of almost 115 million pairs of jeans!

Returns due to fit have some staggering consequences for the environment and your bottom line:
168,337 tons of landfill waste

1,043,481 tons of CO2 emissions

$26,688,480,000 worth of returned inventory