Welcome to Bold Metrics
Go beyond Snap ARES' Fit Finder (Fit Analytics) with our generative AI fit and sizing solutions.
Our digital twin technology pairs real shopper body data with garment specifications to provide accurate size recommendations with fit preference - giving your shoppers the confidence to purchase.

We're excited to get you up and running on Bold Metrics' Body Data Platform — at no cost until 2024.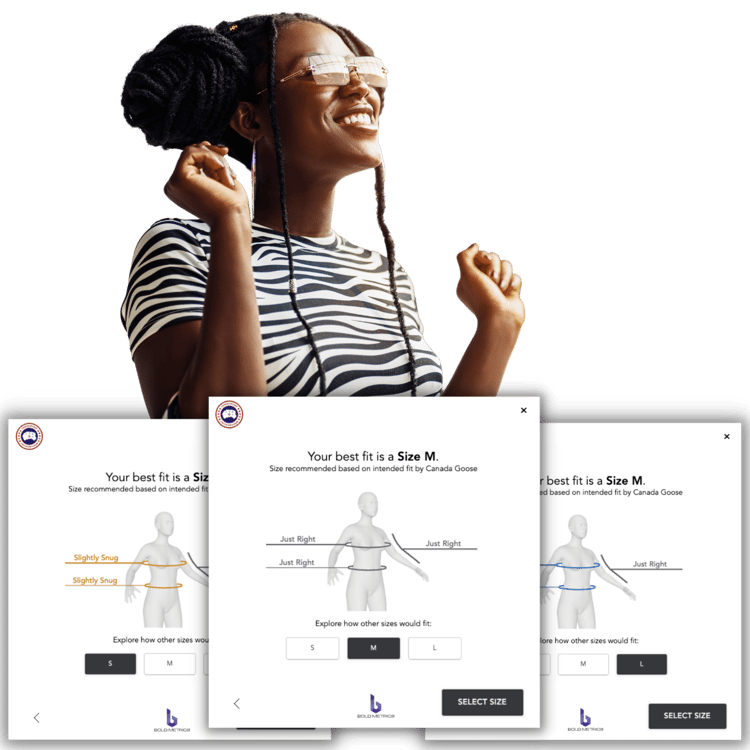 Results You Can See
As the leading AI-powered solution for apparel retailers and brands looking to reduce returns, improve sustainability, and boost conversion, Bold Metrics AI Digital Twin technology helps brands unlock the power of customer body data to meet the demands of today's increasingly personalized world.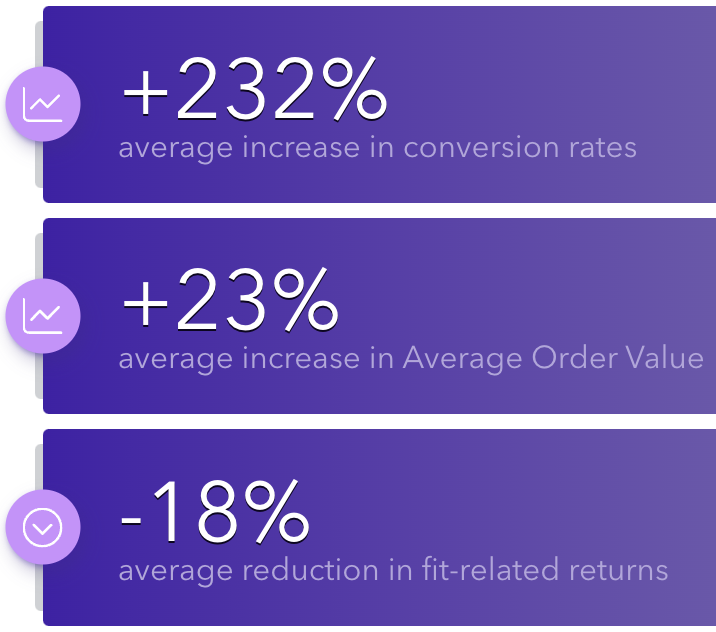 Switch to Bold Metrics Today
We're making it easier than ever to switch. Join us to take advantage of this introductory offer:
Waived Implementation Fees

Includes comprehensive sizing analysis

No costs until 2024



We help brands like yours simplify fit to connect your shoppers to their best size - easily, accurately, and fast. Our clients experience transformative results, see how we can do the same for your brand.
Let's connect.
Join Hundreds of Apparel Industry Leaders Who Trust Bold Metrics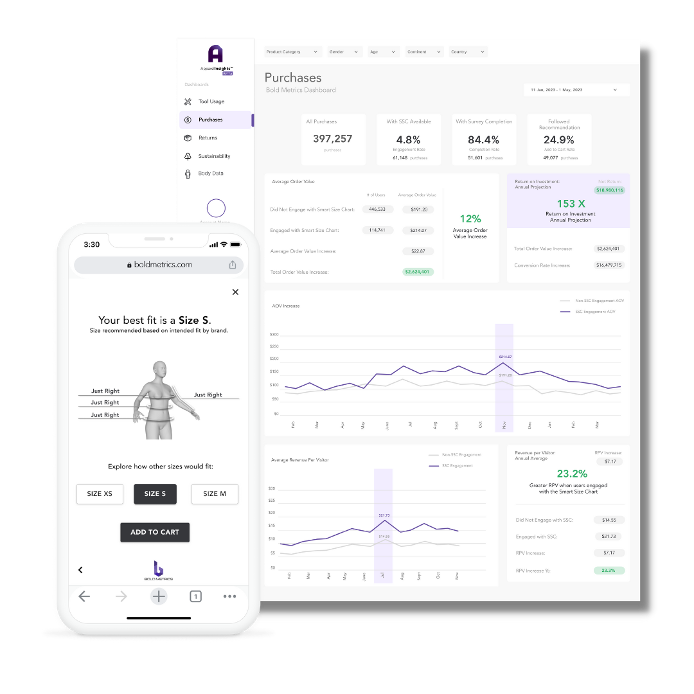 The Bold Metrics Advantage
The only sizing platform powered by 80+ million digital twins (and counting).
Boost conversion and average order value

Bold Metrics' clients typically see a triple-digit boost in conversion and double-digit AOV increase within weeks of implementing our platform.

Reduce returns

Bold Metrics' sizing platform cuts down on bracketing and helps reduce costly fit-related returns by incorporating intended fit by design and visualizing fit preference.

Enhance your customer experience

Customers crave personalization and simplicity. Bold Metrics makes it easy for shoppers to find their size and complete their purchase on your website.




Go beyond simple sizing

Bold Metrics'

platform provides powerful insights across the business driving data-informed decisions on everything from marketing and eCommerce to product and design.



Virtual Fitting At Your Fingertips
Using AI body measurements, years of customer body data, and style-specific size recommendations, Bold Metrics helps forward-thinking apparel brands utilize digital twin technology to increase conversion and average order value, reduce returns, optimize operations, and improve sustainability.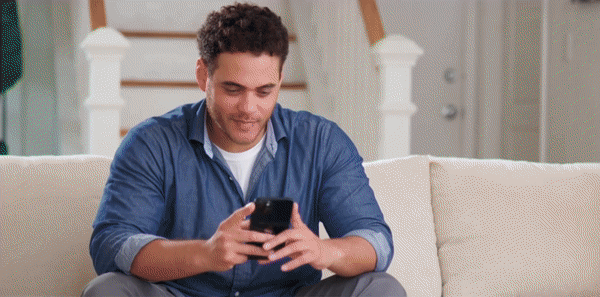 How do Bold Metrics and Snap compare?
Go Beyond Simple Sizing
Not only does Bold Metrics provide tailor-level accuracy when it comes to size recommendations, but you'll begin building your customer digital twin library to optimize and influence your technical design teams, analyze your size charts and grading processes, and leverage customer body data insights for strategic decision making across your organization.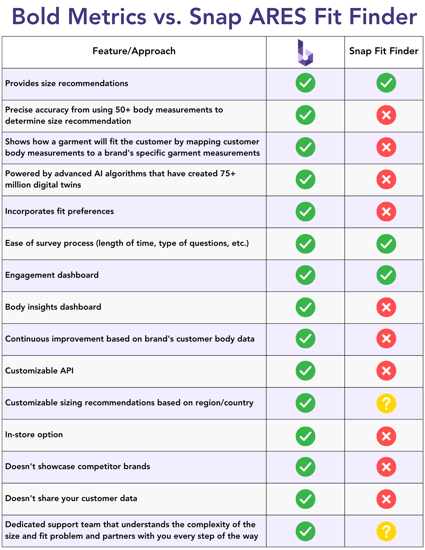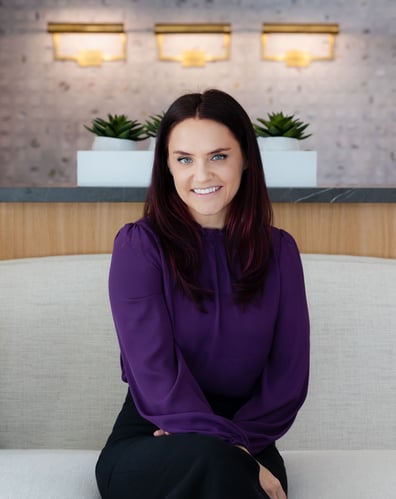 "We're ready to guide you through our onboarding process, answer any questions, and go above and beyond to ensure you're up and running quickly as we approach peak season. We're all excited to welcome you into Bold Metrics' growing family."
Daina Burnes
CEO and Co-Founder, Bold Metrics